28.10.2023
Fantastiske SMILLA og Connie:
C.I.E. N DK UCH NORDIC UCH NVet CH NV-20-22-23 NVV-21-22 NVV-23 NJUBVV-23 NJUBV-23
MOVIE STAR AV VIKHOLMEN (SMILLA) 10 år
Har idag vært i Stangehallen i regi av Norsk dobermannklubb, hatt en fantastisk lang men helt RÅÅ dag.
Resultatet ble som følgene
1CK, BTK OG BIR OG BIR VETERAN
Dommer: Kelly Lawless
BEST I GRUPPEN 2
Dommer Kelly Lawless

🧡🧡BEST IN SHOW 1 VETERAN 🧡🧡
FOR DOMMER Ashley Reid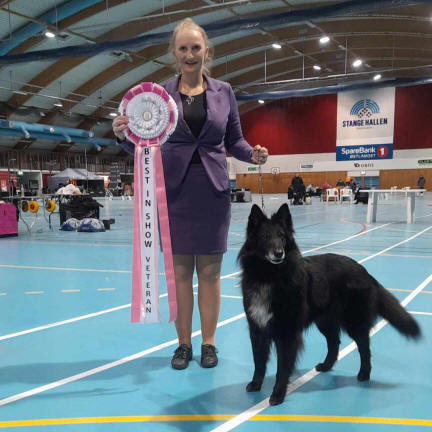 26.10.2023
Sheltie puppies are born! - 3 healthy nice sable and white. 2 girls and one boy
22.10.2023
We are expecting Shetland Sheepdog puppies!
16.10.2023
Verdens beste mamma forlot oss brått i dag - vi savner henne så uendelig - ord blir knappe.
For en dame du var - jeg ser fremdeles opp til deg <3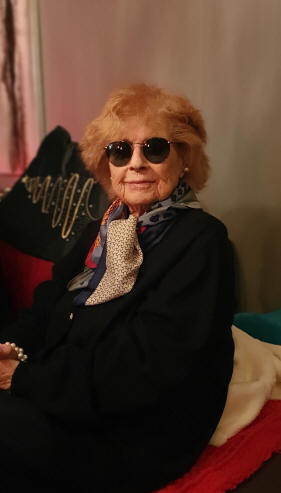 13.10.2023
Nadjarah's Phame Hips AA - Elbows 00 - LTV0 Spine 0 - Eyes clear
17.08.2023
New plans on Groenendael in 2024
We have bought 2 new Collies and one new sheltie!
26.02.2023
New pictures of the lovely babies.
This weekend we have had lots of visitors :-)
15.02.2023
We would like to welcome our new collie:
Skabona No Limit To Dream from Sweden :-)
Also new photos of the lovely babies :-)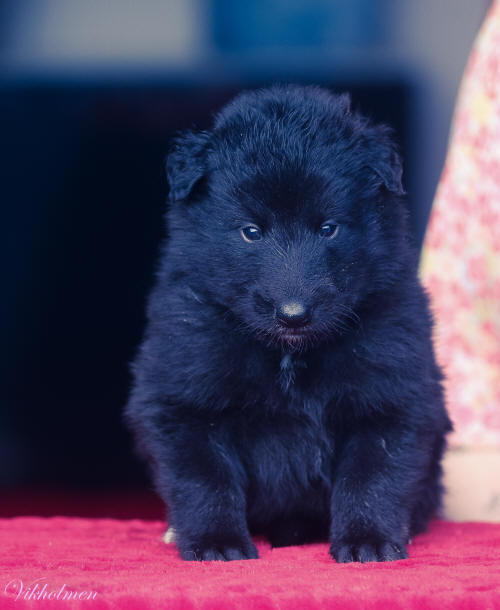 04.02.2023
New pictures of the wonderful six :-)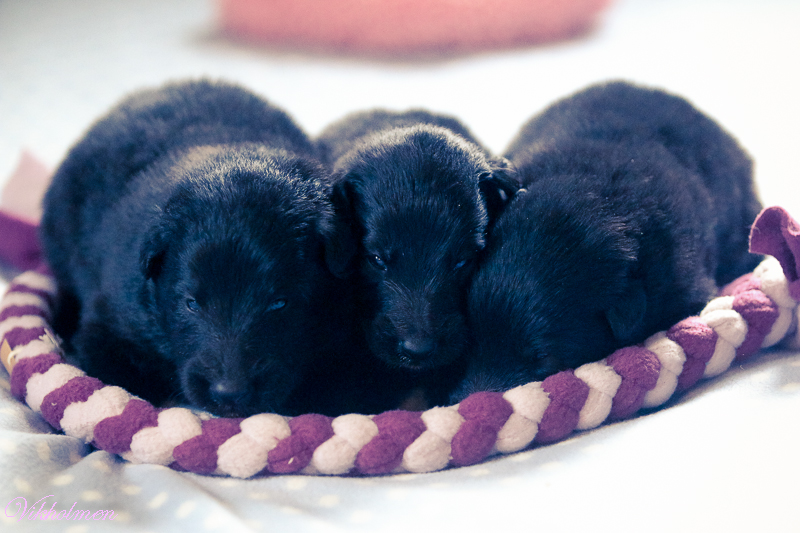 28.01.2023
The puppies are one week old, all is fine with both mum and the children
Pictures of the wonderful 6 will come this weekend - stay tuned!
20.01.2023
The puppies are born! Super nice, black and strong puppies :-)
3 boys and 3 girls
11.11.2022
New plans for our next litter (C3) at Vikholmen
We hope for a sucsessful mating next week :-)
25.09.2022
BSBK nat.show Bergen today: V for Vesta av Vikholmen:excellent (shown in her bikini😁)
and puppy Borghild Brak av Vikholmen with a nice critique, best of luck next time😇 congratulations to Laila and Nadine
BSBK puppy show in Bergen today: "Brage Blesi av Vikholmen" HP and BOB congratulations to Arild
18.09.2022
You Wish av Vikholmen LP res: GRATULERER til Ailin!!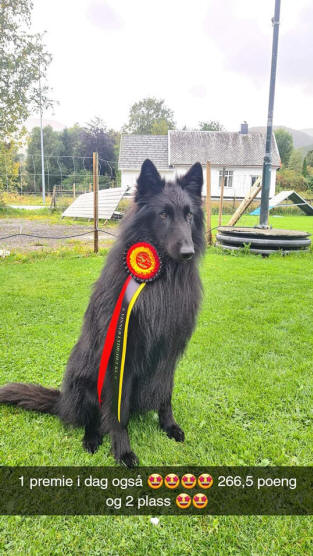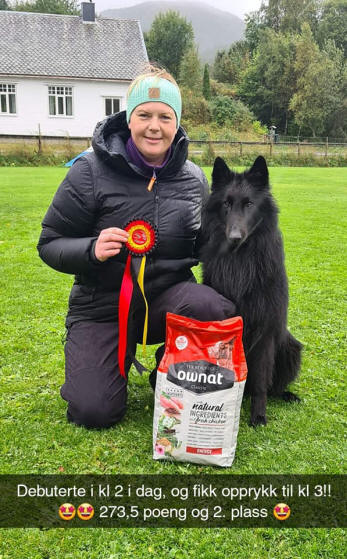 18.09.2022
Stolt oppdretter! Blir så glad når ting går rett vei for barna🥰
Berserk av Vikholmen BIR med HP i dag, gratulerer så mye til Mona og Yngve!
Og i går fikk You Wish av Vikholmen 273,5poeng i kl II og opprykk til klasse III, gratulerer til Ailin !!!
28.08.2022
Zelena av Vikholmen med eier Kristine Kulsvehagen:
exelent på Lørdag og EX, CK, BTK og BIR (Best i Rasen) søndag
Gratulerer så mye!!!
28.08.2022
Sweden: The lovely"Joy Ride av Vikholmen" -Sookie : BOB and Best In Show veteran !!!!!
at Nedansiljans BHKs show in Leksand , congratulations to Anna Mann !!!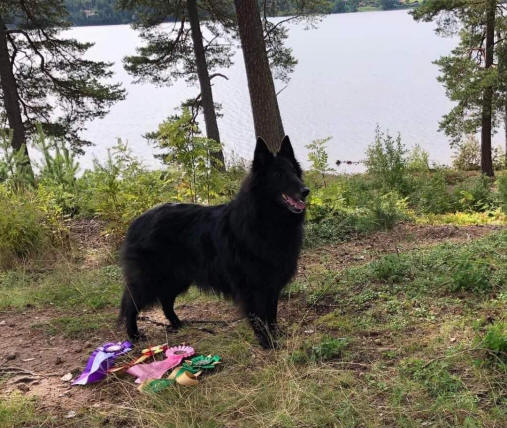 15.08.2022
Gratulerer x 1000 til Connie med sin evigvakre Smilla:
NUCH, NV-20-22 NVV-21-22
Movie Star av Vikholmen (SMILLA) 9ÅR.
Fredag 12.08.2022 DKK INT. BORNHOLM
Dommer: Jadranka Milojkovic
1BTK, CK, CERT, CACIB, BIR og Hammershusvinder 2022.
DANSK CHAMPION og kan søke om
INTERNASJONAL CHAMPIONAT
Lørdag 13.08.2022 DKK NORDISK BORNHOLM
Dommer: Tino Pehar
1BTK, CK, NCAC, BIM OG
DKK- JUBLÆUMSVINDER 2022.
Kan nå søke om NORDISK CHAMPIONAT
SØNDAG 14.08.2022 DKK INT. BORNHOLM
Dommer: Tinna Grubbe
1BTK, CK, CACIB OG BIR.
BORNHOLMVINDER 2022.
Dette ble FULL pott og mer til
14.08.2022
Gratulerer til Anette Birkenes og hennes Beyla Droyma med HP og BIR på NTK sitt valpeskue!!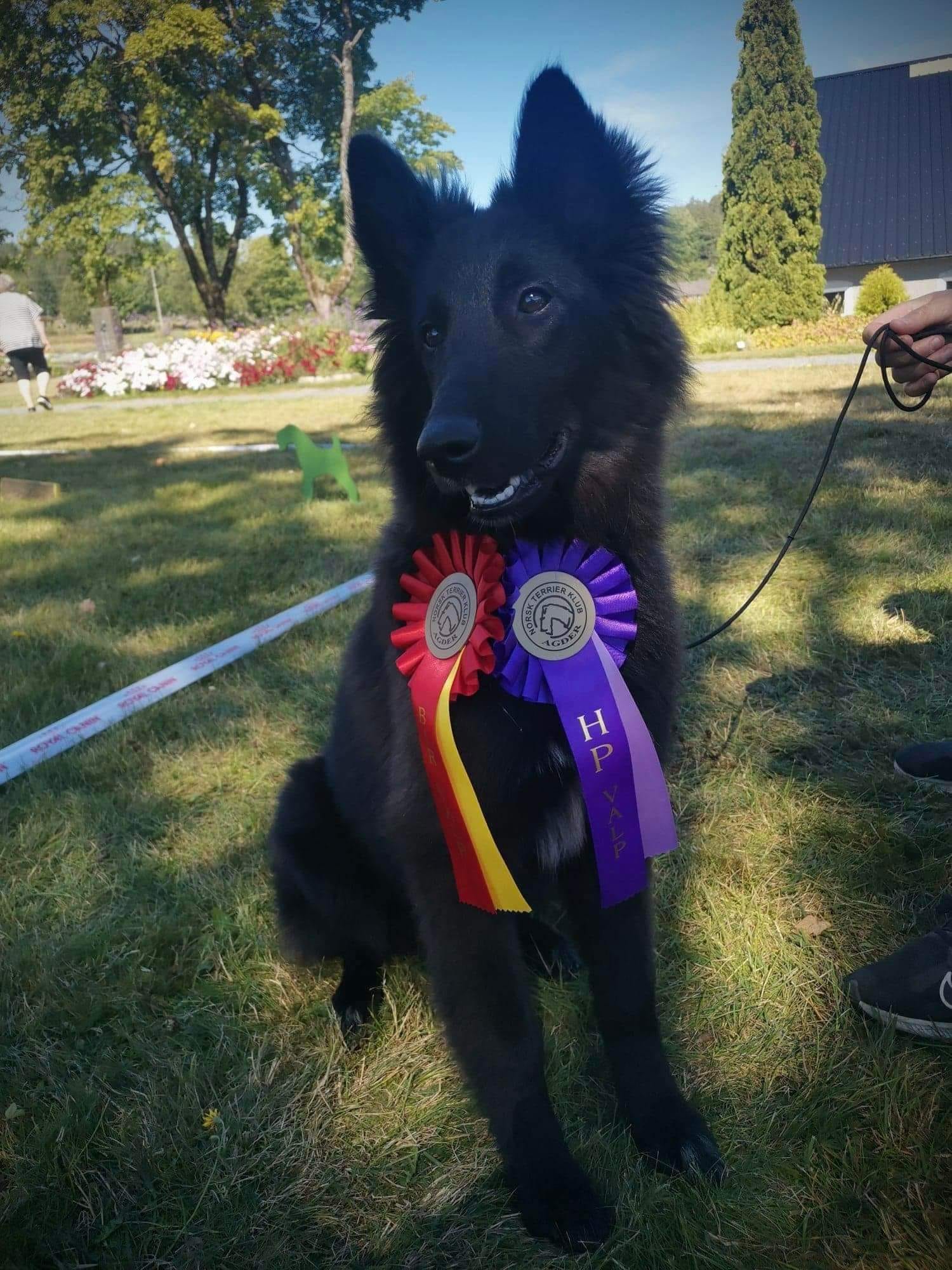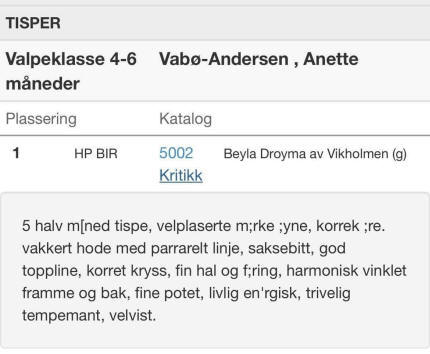 30.07.2022
NBFK special show with judge Sandra Dubach :Congratulations to Connie with her CH Movie Star av Vikholmen,
BIS2 veteran and second best female😊 the lovely puppy Beyla Droyma av Vikholmen was 2. in puppies with a very nice critique also.
Congratulations to her owners: Anette😊 Beylas half brother was also shown (You and I av Vikholmen)with vg
17.07.2022
VETERANSHOW) (uoffisielt)
i regi av Norsk Affenpinscherklubb.Vi hadde en super gjennomkjøring i ringen idag, hadde en god følelse🥰
Dommer i dag var :Caroline Hals
Og resultatet ble:
BIR VETERAN ,HP, BIG 1 VETERAN OG
BEST IN SHOW 2 VETERAN.
Congratulations to Sari Kestilä
-------------
FinJunCh Nadjarah's Phame
(owner kennel Vikholmen and kennel Qojotes)
Tornio Nord Dog Show
CQ, BB1, BOS, NORD CAC
Judge Tuula Savolainen.
3.07.2022
Norsk Bernersennen klubb, Maura 3/7-22.
Dommer: Francisco Salvador G Janeiro.
Movie STAR av Vikholmen ble idag
1 BTK, BIR OG BIR VETERAN
Happy Happy Happy results from the Speciality Show in Finland.
FI JCH Nadjarah's Phame 15 months old Best junior, best female, BOB junior, BOB, 3rd BIS junior & 4th BIS !
FI JCH Nadjarah's Phantom 15 months old 1st. exc, junior !
( Luavjan's Bono The One x Breakpoint's Azora of Ulthra )
22.06.2022
Gratulerer så mye til Johanna Kaati som ved Rallylydnad Piteå HU 2022-06-20.fikk tittelen
RLD N til sin : Zahara av Vikholmen "Bonnie" 🔸
🏅🏅 Två kvalificerande resultat och kvalificerade sej för Agria rallylydnadcup.
⭐️ Diplom och Bonnie har nu titeln RLD N
19.06.2022
En fantastisk utstillingshelg på NKK Sandefjord er over, og den har vært helt NYDELIG❤❤❤
Movie Star av Vikholmen ❤SMILLA❤ 9 år
LØRDAG 18.6.2022 ( NORDIC)
Dommer: Anna Kochan
Ble hold dere fast 1 BTK, BIR, NORDIC.CERT, BIR VETERAN, NORSK VINNER 2022 OG NORSK VETERAN VINNER 2022.
SØNDAG 19.6.2022 INT.
Dommer: Morten Matthes
1 BTK, BIR, BIR VETERAN OG CRUFT KVAL.
11.06.2022
Movie Star av Vikholmen
BIS!!!! Veteran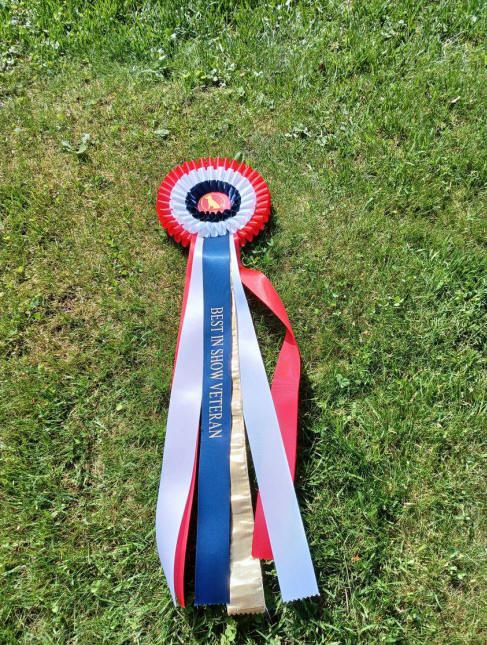 NHHK :Gratulerer så mye med BIR i dag til Zelena av Vikholmen Kristine Kulsvehagen 🥰 Gratulerer også til Anne Tove Jensen med BIM på vakre Revloch Fiddler's Green 😊 og certet til Jasper Astra Meum😊 dommer var Anthony Kelly.
07.06.2022
Vakreste, snilleste Lace: "Sunresc Lace Back To Fame" 15.12.2006 - 07.06.2022 er nå borte.
Vi savner deg lille venn, du satte dine potespor hos oss. 12 barn fra 2 kull fikk du og de beriket livene til sine eiere.
Selv om du fikk leve et langt liv hos oss er det fryktelig trist. Du var en herlig og glad sjel nesten til det siste.
Hvil i fred kjære Lace
05.06.2022
Very happy with our co- owned girl"Nadjarahs Phame" she was BOB at her last show and was then FIN Jun.Ch😊 Hedda lives in Finland with Sari Kestilä 😊
30.04.2022
2 supre internasjonale resultater for Vikholmenbarn i dag, 1 i Sverige og 1 i Norge
I Sverige ble Movie Star av Vikholmen BIR med CACIB og Crufts kval. I Norge NKK Ålesund, ble Zavanna av Vikholmen BIM med CACIB (fullcertet) ! Gratulere til
Connie Chr Larsenog Kristine Kulsvehagen!!!
25.04.2022
All our loving puppies have left for their new homes, we wish them all the best for the future :-)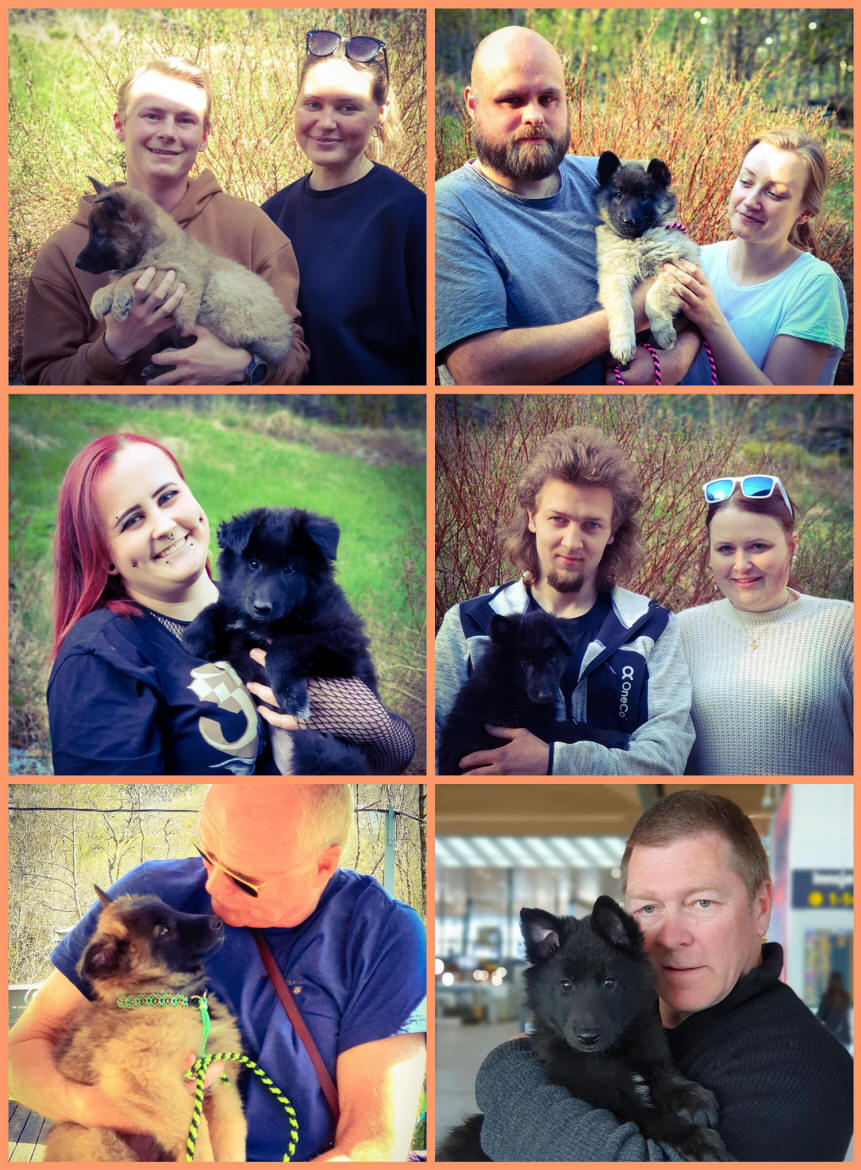 18.04.2022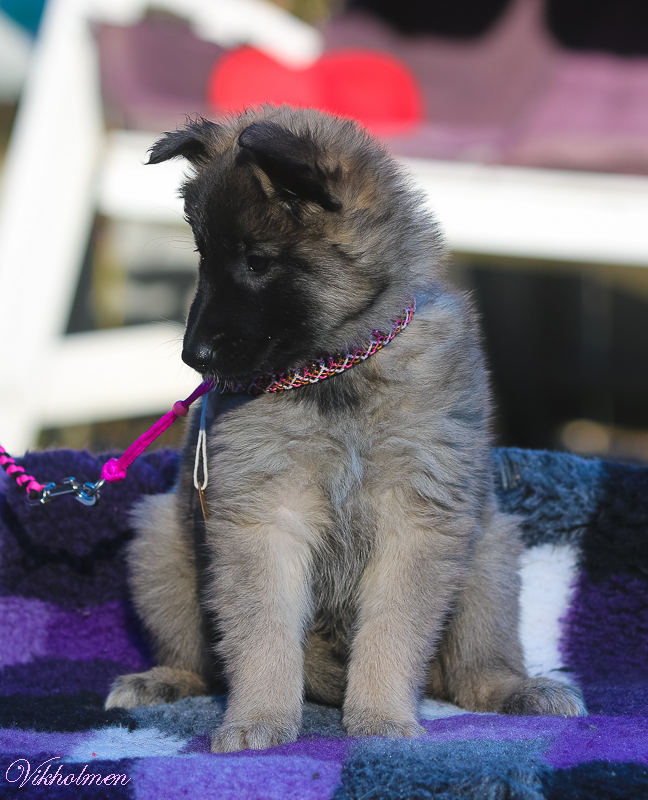 New pictures of puppies 6 and 7 weeks :-)
04.04.2022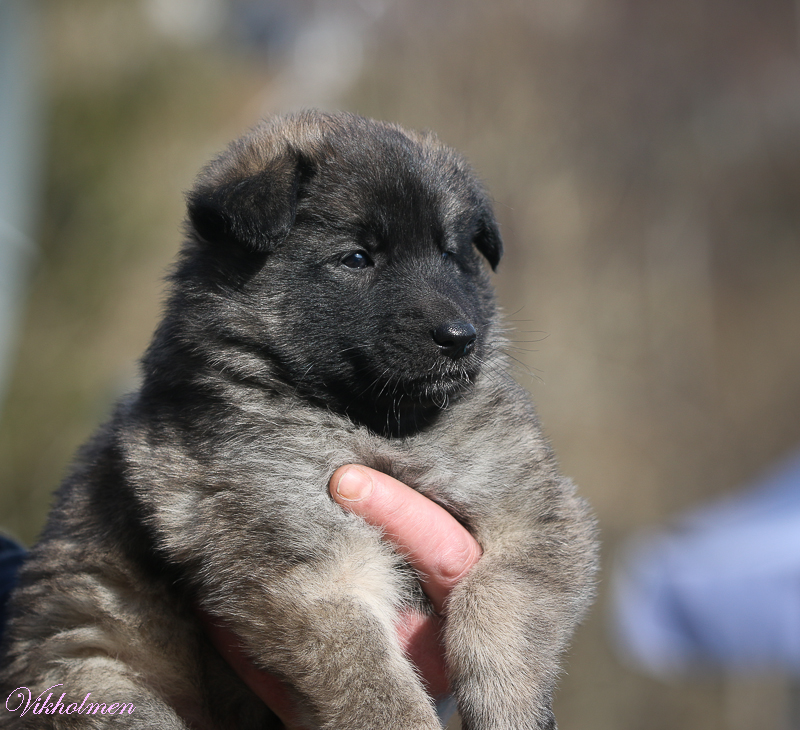 28.03.2022
Puppies 4 weeks photo shoot is ready :-)
19.03.2022
New pictures of the puppies, soon 3 weeks old :-)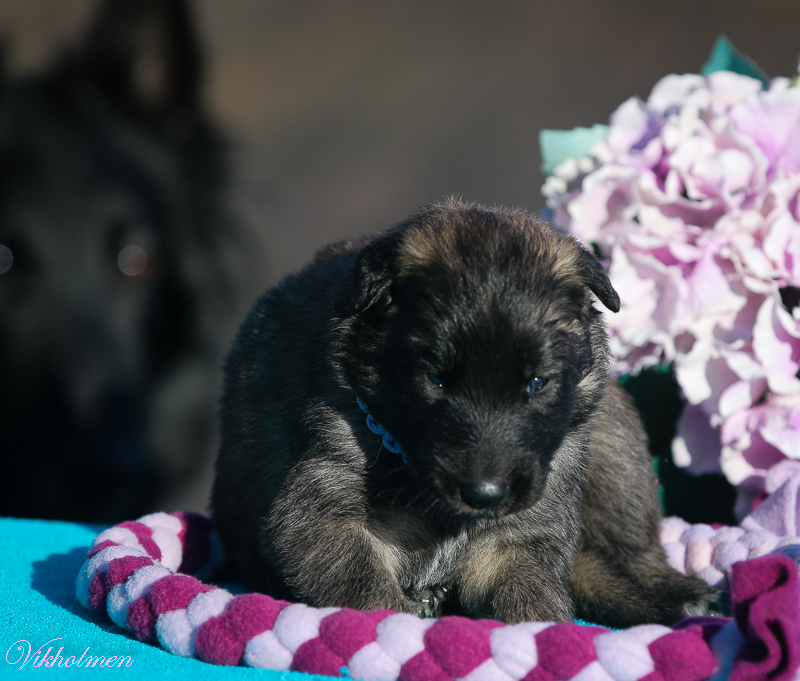 13.03.2022
New pictures of the puppies, soon 2 weeks old :-)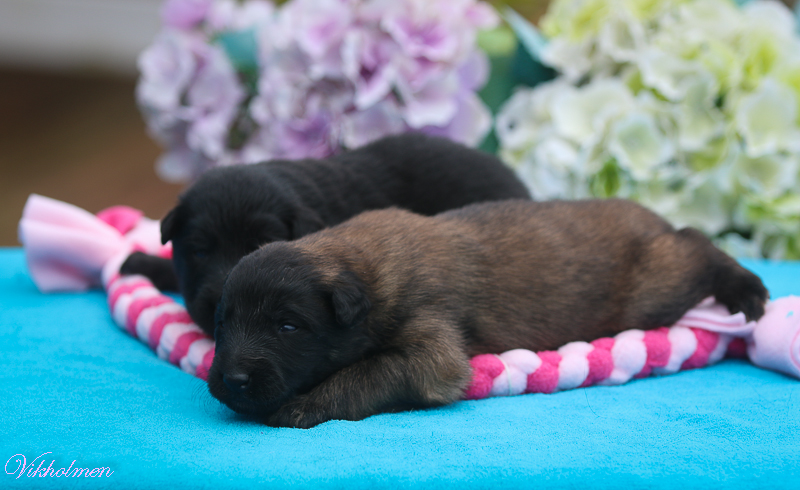 06.03.2022
The puppies are growing and thriving :-) Mia is such a super mum!
New pictures here:
02.03.2022
Happy news :-)
Mia (CH Secret Spell av Vikholmen) gave birth to 6 puppies Feb. 28th
She got 2 boys (1 Terv and 1 Groen) and 4 girls (2 Terv and 2 Groen)
All puppies are reserved :-)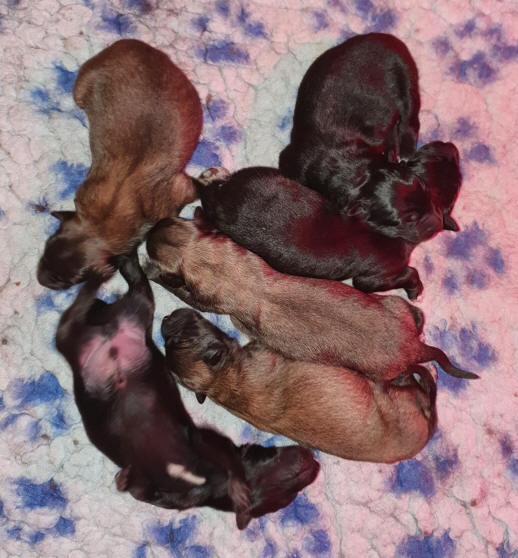 07.01.2022
New photos of our HAPPY Sheltie :-)
Happy NEW Year :-)
We have exciting hopes for our new litter in 2022!
If everything goeas as planned - we will have Groenendael puppies
February 27th. sire: NUCH DKCH Lobo - Dam: NUCH DKCH Secret Spell av Vikholmen